Resistance training bands are a safe and effective way of strengthening muscles in all patients. As physical therapists know quite well, resistance bands are perhaps the least expensive and most versatile exercise tools for improving muscle strength and flexibility. But what are the benefits of resistance bands?
What Are Resistance Bands?
These strips and loops of natural or synthetic rubber, which resemble large rubber bands, come in a range of resistance levels, each of which is indicated with a different color. The amount of resistance, which ranges from about 3 pounds to 22 pounds, varies throughout the exercise. That is, there is less resistance at the beginning of the stretch, and more resistance at full stretch. 
What Are The Benefits of Resistance Training?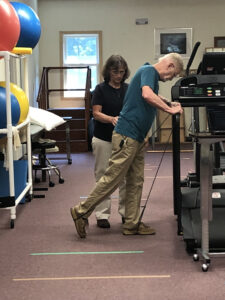 By looping these bands around feet and hands, physical therapy patients can produce muscle-strengthening resistance that is similar to that produced by lifting weights. Resistance bands, along with other tools, are how physical therapists can help patients perform exercises and reduce their chance of injury.
It is possible to attain injury from exercise for many reasons. If you are performing and exercise incorrectly, it is very likely you can get injured. Even if you are using too much weight, you are harming yourself. You are increasing the chance that you might get hurt. 
Physical therapy programs, such as ECRC Physical Therapy's Fit-4-U program, can help you reach your fitness goals without harming your body. By assessing your medical history and current condition, a certified physical therapist can come up with an exercise routine that's right for your body. 
Coming up With an Exercise Program For You
Your physical therapist will provide an assessment of your body's current condition before you start an exercise program. This assessment will track your overall fitness, but what does this mean? Your therapist will be testing:
Range of motion
This is the measurement of the amount of movement you can currently obtain. Your PT will perform this by using passive, active, and active assists testing. In other words, they will be asking you to perform motion tests while also aiding you in joint-movement when relaxed. 
Balance
Your PT will perform a number of balance and coordination tests to evaluate if there are any problems with your equilibrium. This will also determine how much balance training you might need.
Movement
A physical therapist will perform a movement diagnosis to determine if you have any difficulties in movement. This is done by testing your movement system and diagnosing any issues that you may have. 
Agility
An agility test determines how quickly you are able to move and change directions while still maintaining balance. Your reflexes, balance, speed, and acceleration all determine your agility.
Stamina / Endurance
Your physical therapist will normally ask you to perform a specific task for a length of time, or as long as you can possibly do it, to determine your endurance.
Strength
Strength testing is determined by resistance testing where your PT will push on your body in different directions and ask you to resist back. 
How To Find an Exercise Program
You can find a certified exercise program by asking your doctor what physical therapy office has a program near you.
ECRC Physical Therapy's Fit-4-U Fitness Program will provide you with guidance and training you need to reach your exercise goals. Our professionally licensed staff will be happy to work with you to help you get the most out of your workouts.
Want to have a fitness assessment and participate in Fit-4-U?

Call 860-376-2364 or
email
ECRC Physical Therapy today to inquire.