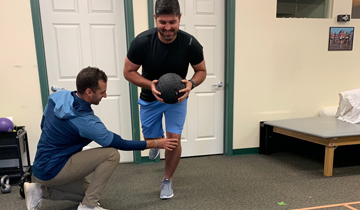 Do you need assistance to move towards a successful integration of correctly performed exercises to meet your goals? Tired of getting hurt every time you try to imitate some exercise routine seen on TV, YouTube or following a "trainer" at the local cross-training gym?
Our Fit-4-U program uses the guidance of our professionally licensed staff to make all the difference in successfully attaining your fitness goals and avoiding injuries sustained by exercise routines that can be too aggressive or haven't been customized to accommodate your current condition. We can also work with you and your personal trainer to guide and recommend changes to get the most out of your workouts.
ECRC-PT's Fit-4-U program is designed to help you succeed with personalized, guided programs that are safe and effective to meet your fitness goals.

The Fit-4-U Program includes:
An assessment of medical history that relates to your physical fitness
Establishing individualized fitness goals that are attainable and reasonable
A thorough physical assessment of your fitness including movement, range of motion, balance, agility, stamina and strength
An individualized exercise program designed to improve your strength, flexibility, balance, coordination and cardiovascular health to help you attain your personal goals
Call or send us an email to inquire about Fit-4-U and how we can help.